How Quickly Does it Need to Get There?
TIMAX offers a variety of Messenger Services to meet all of your timely delivery requirements. These services are available throughout the GTA bordered by Hamilton to the west, Oshawa to the east, and as far north as Bolton and Newmarket. Our zone map shows our complete coverage as well as postal codes associated with each zone.
Service

Delivery

Time
Cut-off / Availability
Direct
ASAP
Call between the hours of 7:00am and 4:00pm
Rush
2 Hours
Call before 3:00pm
Regular
3.5 Hours
Call before 1:30pm
Sameday
Before 5:00pm
Call before 11:00am
Overnight
Next Day
Call before 3:00pm for next day delivery
After Hours
ASAP
Between the hours of 4:00pm and 7:00am
For delivery to or from Zones 8-17 (see map), add an additional 30 minutes to delivery and cut-off times. All of the above services are available with a car or van. For larger shipments, refer to our Freight page.
TIMAX provides pre-scheduled deliveries on a daily basis for bank/mail runs and other daily pickups.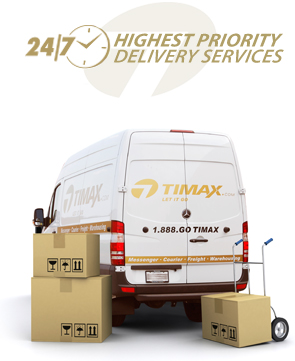 Outside the GTA?
For locations outside of our zone map, we continue to offer Direct and After Hours services, as well as courier services to these locations. Visit our Courier page for more information.

Temperature Controlled Services
TIMAX provides temperature controlled services. Possible uses of temperature may vary. For more information, visit our Special Services page.

Dedicated Fleet Services
A single driver dedicated to your account, or coordination of an entire fleet. We will customize an efficient, cost-effective shipping solution for your business. We can arrange for any combination of routing and courier fleet vehicles

Medical Direct (Code Blue)
TIMAX now offers a Medical Direct service. This is a specialized service that we provide for emergency medical situations that require the highest priority, available 24/7/365.

Next Flight Out
For those emergency shipments that need to get delivered to a further location as quickly as possible. Your package is picked up and placed on the next available flight out, and subsequently picked up from the airport and delivered to its final destination. See Special Services for further details.

Freight Services
For larger shipments, we provide freight services locally and across North America. See Freight Services for further details.