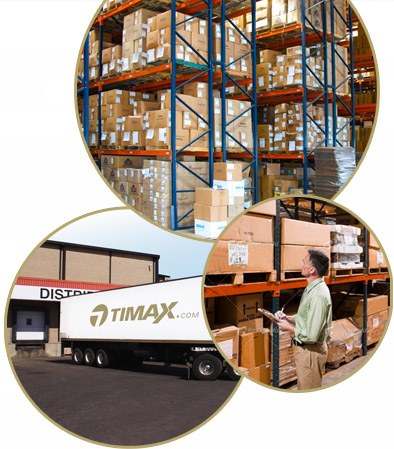 Climate Controlled Warehousing, Distribution & Storage
TIMAX has the expertise and processes in place to assist any company with their third party logistics (3PL), warehousing and distribution needs.
At TIMAX, we pride ourselves on being able to offer:

Temperature controlled (ambient) and cold storage services

Online inventory management software

Short or long-term storage – pallet or loose load

Stock availability verification upon order receipt

Order status and location monitoring

24/7 secured, monitored environment

Easy access to major highways (401, 403, 410, and 407)
Picking / Packing / Fulfillment
TIMAX offers full pallet, case and unit picking and provides complete order fulfillment services including web-based order placement and
worldwide shipping. Let our experts devise a plan to lower your costs and scale operations based on your own unique business strategies.
Pick & Pack
Pick, pack & ship within 24 hours of order receipt
Packing list customized to your order
Order confirmations via email to you and your customer
Reports — for inventory, orders, shipped items, etc.
Shipping
Domestic shipping via TIMAX, UPS, Purolator, etc.
International shipping
C.O.D. (Collect on Delivery) shipments
Shipment tracking for your customers
Inbound Shipments
We work with your carriers to ensure inbound shipments are received efficiently and in a timely manner. Whether it is ongoing or a one-time need, we have trained staff and proven processes to allow de-stuffing or stuffing services.
Outbound Shipments
TIMAX works with the client Quality Assurance to establish packing and shipping protocols and procedures specific to their products. Packing Slips, Bills of Lading and Address Labels accompany the shipment, providing clear and accurate shipping and customer receiving documents.
Cross-Docking
TIMAX will provide a staging area to store, organize, and consolidate products before orders are ready for shipment.